15 November 2023
Principal's Report
Our vision is to foster every individual's academic and social development driven by high expectations for success and aspirations for them to become resilient, respectful individuals.
Kaya Families,
It was lovely to welcome our new families to Somerly PS, through our Kindy Parent Information session. In week 7 & week 8 our Kindy students will have their orientation sessions.
I was very proud of all our students on Friday, as they displayed exceptional audience manners during our Remembrance Service. We were very fortunate to have Mr Mark Folkard MLA and Mr Arthur Ventham, School Board Chair, who addressed our service and told their stories about Remembrance Day. Each class selected a student representative to lay a wreath, along with the School Board Representative and P&C members. It was a very solemn service, acknowledging our hope for World peace.
Our Student Councillors, with Mrs Elliot, Ms Lipman and Mr Ventham represented Somerly Primary School community at the Cambrai Retirement Village, for their Remembrance Day Service. It is an honour to be invited to participate in this special event.
Somerly School Board
We are very fortunate to have a supportive School Board. On Thursday 30th November at 8:45am the Somerly PS School Board will hold their open meeting. School community members are all welcome to attend this meeting. There will be a light morning tea served as we meet and discuss the functions of the school board. There will also be an opportunity for parents and community members to nominate to be a part of the school board. Please feel welcome to attend this meeting.
Parent Survey
You are invited to complete our school survey. This is an opportunity to feedback your opinions on the effectiveness of Somerly Primary School.
Please take your time to reflect on the last six months as this will ensure that the information is current and will assist us with our ongoing planning.
This survey is expected to take approximately 5-10 minutes to complete. This is a departmental National survey, that is administered in all public schools. We value your opinions and feedback, thank you for taking the time to complete this survey.
Please click on the link below to proceed with the survey.
https://www.schoolsurvey.edu.au/s/S8pwQnAY
Students in Years 5 & 6 will also be completing a survey to obtain their feedback on various aspects of our school. These surveys will be completed in the later weeks of this term.
Australian Mathematics Challenge
Congratulations to all our students who participated in the Australian Mathematics Challenge.
Arriving to School
Please ensure that your child arrives to school at the appropriate time, classroom doors open at 8:30am. If children are at school before 8:30am they are expected to wait in the undercover area. Please also make use of the before care facility, TheirCare. If you enquire about the costs, I'm sure you will be surprised with what they offer.
Louise Carroll
A/Principal
Term 4 Events
Please ensure you have access to seesaw to keep up to date with the events occurring this term next week.
Save the dates;
17 November: 8:45am Assembly Rooms 6 & 2
22 & 29 November: Kindy Orientations
24 November: Assembly Room 8
24 November: P&C Meet & Greet at The Boat Mindarie Marina 6:30pm
30 November: School Board Meeting- all welcome to attend
1 December: BOOK AWARD ASSEMBLY
8 December: Year 6 Graduation Ceremony
2024
As we begin our planning for next year, please inform the school if your child/ren are not attending Somerly next year. You can inform the school via email, Somerly.PS@education.wa.edu.au or phone 6206 4200.
Term 4 Calendar


P&C
Our P&C need your support, even if you can only spare an hour of your time to support our Wednesday sausage sizzle lunch, without your help this much enjoyed service will not be able to continue. Please contact the P&C to offer some time to help our community out.
P&C are hosting an end of year wind up to celebrate their achievements and to meet and greet new members. Please join them at the Boat Mindarie Marina on Friday 24th November 6:30pm.
The Somerly Playgroup is conducted on Thursday mornings in our Art Room, please feel welcome to join the playgroup, and prepare your child for their early years learning.
Stars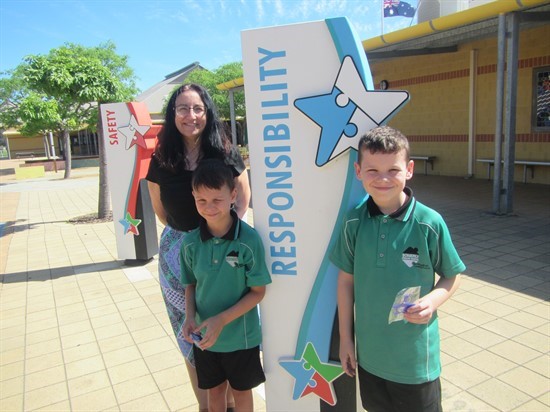 Prev
Showing images
1 - 8
of 30
Next
Italian Assembly
This year all students learnt the classic Dean Martin song called – Mambo Italiano. The Year 4 students in Room 11 rehearsed during Italian lessons and enjoyed choreographing their own special movements for the iconic Italian song. Lots of laughter and beautiful melodies ensued during rehearsals. The hard-working Year 5 and 6 students had some of their fantastic work displayed as part of the Italian assembly. I look forward to next year's Italian assembly where the beautiful Italian language, which has become very much a part of the school community, continues to be celebrated.
Alla prosima! Til' next time!
Signora McCulloch
2024 Book Lists
2024 book lists were sent home with students last week. Please check your child's bag. The lists are attached here and can also be found on the Somerly Primary School website.
Behaviour Focus
Our behaviour focus for Week 6 is:-
Responsibility:
We are learning to immediately follow all staff instructions.
Waste Wise Schools
Gardening Club
Our move to run the Gardening Club before school has been very successful as it has been much cooler weather earlier in the day.
We received some wood chip mulch from Mulch Net and our students have been busy bees mulching our garden.
Room 7 – Buddy Sports
On Monday 13th November, as part of Room 7's Faction Token Reward, they picked to do a sports lesson with their Buddy class, Room 3.
Prev
Showing images
1 - 8
of 11
Next
Room 15 News
Room 15 (Years 1 and 2) were runners up in the Aussie of the Month partnership with the Pilot, 'sticking together' competition. We told how we try to always work as a team and support each other inside and outside the classroom to be the best we can in our learning journeys. We won Mechanical pencils for each student as runners up.
Well done team room 15
Mrs Avery

Students Late to School
If your child arrives late to school, they are missing critical morning routines and learning activities. The school day begins at 8:40am and students will be considered late if they do not arrive by this time. If your child arrives after 9:00am you are required to enter through the front office and provide us with a reason for the lateness. A late slip will be printed for you to give to the class teacher.
Not Feeling Well?
If your child is not feeling well before school, please keep them home and notify the office by phoning 6206 4200, sending an SMS to 0437 480 486 or emailing somerly.ps@education.wa.edu.au.
Late Collection of Students
Somerly Primary School has a student finish time of 2.45pm each day. If your child has not been picked up before 3pm, you will be required to come to the front office to sign them out.
VacSwim 2023
Saver Plus 2023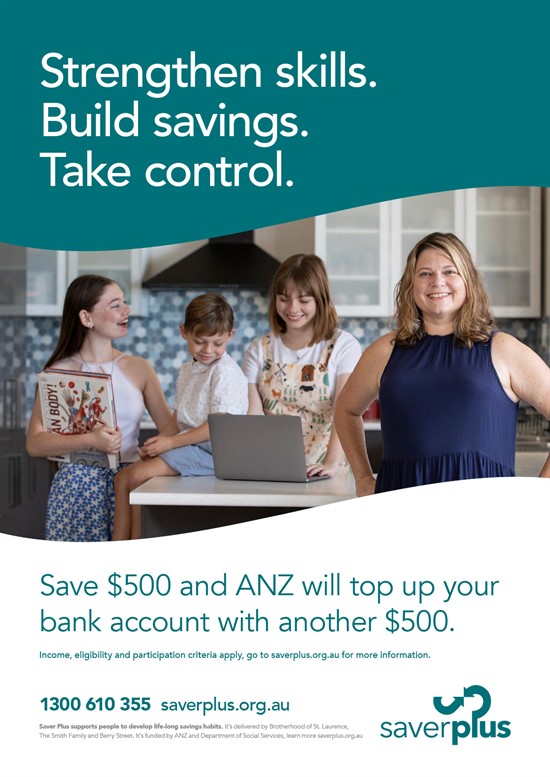 Wanneroo Christmas Day Lunch 2023
P & C
TERM 4 WEDNESDAY LUNCH – SAUSAGE SIZZLE AND A JUICE BOX - $5
*VEGETERIAN OPTION NOW AVAILABLE*
Orders MUST be given to your teacher at the start of class
Correct money MUST be included with your order, NO CHANGE GIVEN
Please ensure the following is on your order:
NAME AND ROOM No.
SAUCE PREFERENCE (Tomato, BBQ, Mustard)
AND JUICE PREFERENCE (Apple, Orange, Tropical or Apple and Blackcurrant)
Online Canteen www.QuickCliq.com.au
Orders must be placed online no cash orders.
YOUR CHILD'S CURRENT 2023 ROOM NUMBER MUST BE UPDATED OR THEY WILL NOT RECEIVE THEIR LUNCH!
Somerly Primary School
Phone: 6206 4200 Dental Therapy: 9407 9457
Email: Somerly.ps@education.wa.edu.au
Website: www.somerlyps.wa.edu.au
To advise of your child's absence text mob: 0437 480 486