28 June 2023
Principal's Report
Dear Parents/Caregivers
Our vision is to foster every individual's academic and social development driven by high expectations for success and aspirations for them to become resilient, respectful individuals. We want this to happen within a safe, supportive learning environment that caters for the present and developmental needs of every student.
Thank you for all your support during this term, we have been fortunate to enjoy many successful events throughout the term. Thank you to our wonderful staff who put in the extra time and effort to ensure our school's vision is met, which is to foster every individual's academic and social development driven by high expectations for success and aspirations for them to become resilient, respectful individuals.
Reports
Semester 1 reports were emailed out on Tuesday 27th June. Please check your Trash or SPAM box first before contacting the school for it to be reissued. Electronic reports allow parents to retain a digital record of student achievement, however, as the link to the reports only lasts for four weeks, it is important that parents SAVE their child's report when they receive it.
If there have been any changes to your email addresses, please contact the school immediately.
NAIDOC
To celebrate NAIDOC this year, our Kindy – Year 1 students will be participating in various activities investigating the Aboriginal and Torres Strait Islander flags, creating a sea of hands and making Kindship Trees, as well as reading and listening to Indigenous stories. Thank you to Mrs Dunn for coordinating these activities. Our Year 2-6 students are attending an excursion to Herdsman Lake to participate in cultural activities. Thank you to Mrs Mulder for her organisation and to all staff for supporting these activities and events. Thank you to our P&C for donating funds to assist in reducing the cost of the excursion.
Waste Wise
We are very fortunate to have dedicated staff members, Ms Sanders and Mrs Mulder, who are committed to making a difference to our environment. They drive our school community's Waste Wise program, ensuring we stay on track to continue to collect containers for change, which not only helps our environment but also adds monetary value to our school.
Last week Ms Sanders, Mrs Mulder, Mrs Esson and Captain Cleanup (aka Mrs Caratozzolo) attended the Waste Wise Teachers' Forum and presented Somerly Primary School's Waste Wise story. It was very well received.
We were featured in The Containers for Change Trail Blazers Newsletter and on The WasteSorted Facebook page!
Staffing
As many of you are aware, Miss Bue is currently on maternity leave. We wish her all the best for the birth of her baby. She will be returning to Somerly Primary School in Term 3 2024.
Miss Barnwall will be continuing in her position of Deputy Principal and I will be continuing in the role of Principal for Term 3.
I would like to thank our Chaplain, Mrs Estelle Van Niekirk for all the time and support she has given our students and families whilst she was replacing Mrs Elle-May Wong.
Mrs Wong will not be returning to Somerly Primary School, as she is continuing her maternity leave and has secured a position close to her home. She expressed her gratitude to the Somerly community and wishes everyone all the best. She also hopes to come and visit soon.
Consent2Go
This app will be available for our school community to access next term, please take note of emails and Seesaw messages related to this service. All our incursions and excursions will be planned via this app and will provide information, gain permissions and receive payments.
We are excited to share with you that the Mindarie Rotary Club has selected Somerly Primary School to receive a Peace Pole to enhance our Memorial Garden. The Peace Pole is a symbol of world peace and has the message "May Peace Prevail on Earth". The message is written in four different languages - English, Noongar, Maori and Italian. We will be unveiling the Peace Pole at our first assembly next term - 28th July. We hope you can attend to make this a special event. If not, we will also be conducting an assembly on Thursday 21st September for World Peace Day.
Thank you to the P&C for making the funds available for a long jump pit, which is being installed during the term. We are keen to have it available for our school sports carnival.
FIFA World Cup
Somerly Primary School will be participating in events to support the FIFA Women's World Cup which is being held in Australia and New Zealand. One of the activities is for students to design a football. We are hoping the school community will embrace this world event and join in the spirit of good sportsmanship.
Please check through our updated schedule for Term Three as we have many events throughout the term.
Thank you to all our staff, students and families for your amazing efforts and participation throughout this semester. Enjoy the school holidays, keep warm and well as we move into the Makuru season, the coldest and wettest time of the year. We look forward to seeing students back at school on Tuesday 18th July.
Louise Carroll
A/Principal
Merit Certificates
Room 1: James and Levi; Room 2: Mackayla and Willow; Room 3: Senula and Jack; Room 4: Elliott and Ahaana; Room 5: Jack, Rylee and Shalom; Room 7: Raiden, Curtis-James, Poppy, Rashaad and Laksh; Room 8: Emmett and Harrison; Room 9: Anthony, Nisa, Leila, Austin and Aizah; Room 10: Devon and Kingsen; Room 12: Mirriam and Jaymie; Room 13: Archie and Tara; Room 14: Zelma and Aiden; Room 15: Francis and Audrey; Room 16: Hayden and Ashley; Room 18: Locklyn and Dakoda; Room 20: Scarlett and Harper; Science: Anthony – Room 10 and Noelia – Room 13; Art: Hazel – Room 13, Thiana – Room 9 and Miah – Room 10; Music: Sami – Room 10; LOTE: Zoey – Room 11 and Saige – Room 14; Art: Nyla – Room 10 and Kalia – Room 8
Stars
Behaviour Focus
Our behaviour focus for Week 10 is:-
We leave the play areas to get a drink and go to the toilet, when the first siren goes
We line up by the second bell, sitting in two quiet lines with a partner
Students Late to School
If your child arrives late to school, they are missing critical morning routines and learning activities. The school day begins at 8:40am and students will be considered late if they do not arrive by this time. If your child arrives after 9:00am you are required to enter through the front office and provide us with a reason for the lateness. A late slip will be printed for you to give to the class teacher.
Not Feeling Well?
If your child is not feeling well before school, please keep them home and notify the office by phoning 6206 4200, sending an SMS to 0437 480 486 or emailing somerly.ps@education.wa.edu.au.
Late Collection of Students
Somerly Primary School has a student finish time of 2.45pm each day. If your child has not been picked up before 3pm, you will be required to come to the front office to sign them out.
Term 3 Schedule
Enrol Now for 2024
The Fathering Project
For those who may not know, the Somerly Primary School dads/father figures group is a group of dads/father figures that meet each term to participate in an activity organised by the school. Events are organised by classroom Teacher and father of four, Mr Daniel Gane and have been funded by our generous P&C.
It is a great group that provides an opportunity for dads and father figures to have fun with their kids and become part of a strong and supportive network of dads and father figures who are connected to Somerly Primary School.
Events run on a termly basis, so this term we partnered with Bunnings, Mindarie to take part in a hands-on woodworking session. Pizza dinner was also provided!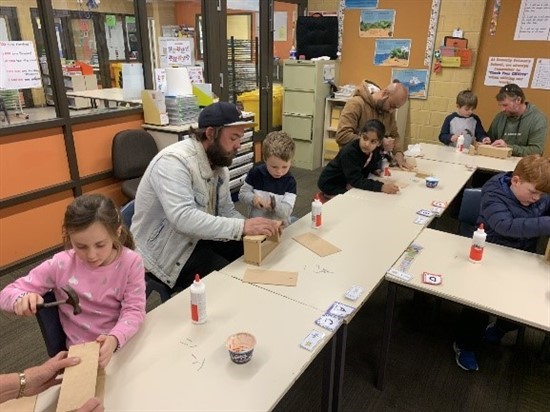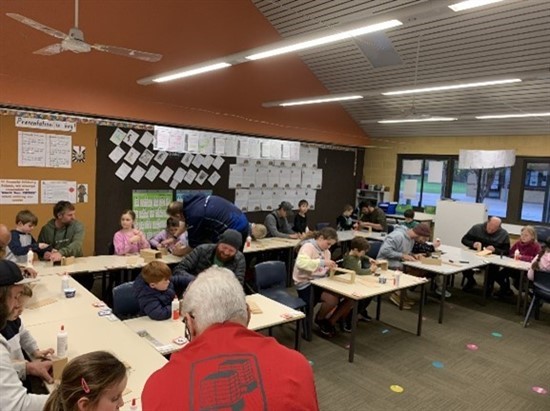 New families are always welcome, so join the WhatsApp group by using the QR code below or watch this space for future updates about upcoming events!
Learning Focus
Block 4
Room 18, Term 2
This Term in Maths students have enjoyed looking at the volume, length and mass of different objects. They have estimated, measured and compared the difference in objects. We have also looked at 2D shapes and have investigated the properties, made our own shapes, sorted shapes and investigated the flip, slide and turn of objects.
In Writing, students have enjoyed writing reports about Australian Animals, they found out lots of interesting facts and completed very detailed reports. We then moved onto Poetry, where students have looked at rhyming, alliteration, acrostic and shape poems.

Prev
Showing images
1 - 8
of 12
Next
Rooms 2 and 12
Room 2 and 12 have enjoyed meeting up with their buddies each week. This week we made a collaborative art project for NAIDOC week. The year 3's helped their buddy to colour their section of the artwork and then Mrs Marshall and Mrs Boyd helped us glue it together.
Waste Wise Schools
Gardening Club
Gardening Club continues to run on Mondays and Wednesdays during lunch time, all students are welcome. We have continued to work very hard on maintaining our community garden despite the wet weather over the last few weeks. In our last newsletter update we wrote that we had harvested some potatoes from our garden. Well, we swapped a gardening session to a cooking session and invited the students who have shown dedication to the garden and who helped harvest the potatoes.
A small group sorted, washed, peeled, and chopped the potatoes into chip wedges and then they were cooked in an air fryer, making healthy chips. This activity was enjoyed by all.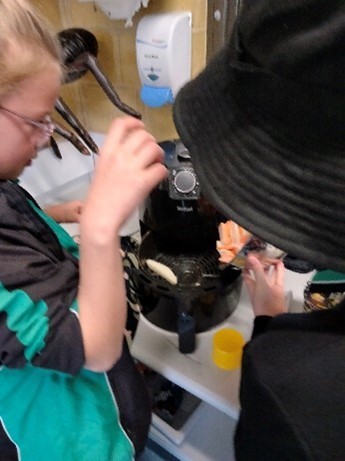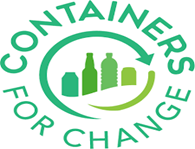 Don't feed the fill!
Thank you to all our staff, students and community for supporting our Target 22000 Challenge. As a whole school we collected 3087 containers and successfully reached our Term Target collecting 22043 containers, raising $2204.30 for our community. We have been able to contribute to our students through our Gardening Club for our NAIDOC excursion and our Kindy incursion. Also 20% ($440.86) of our total of is donated to The Good Sammy's Wanneroo.
Our Challenge winners were
Miss Avery's room 15
Collecting 613 containers!
Other classroom totals:
Room 1 – 213 Room 2 – 114 Room 3 – 16 Room 4 – 133 Room 5 – 603
Room 6 – 75 Room 7 – 20 Room 8 – 111 Room 9 – 106 Room 10 – 81
Room 11 – 76 Room 12 – 189 Room 13 – 27 Room 14 – 43
Room 16 – 233 Room 17 – 10 Room 18 – 150 Room 20 – 170 Other – 100
Remember every container we recycle reduces waste going to our environment!
This week we are celebrating Somerly Primary School Environmental Day and we are running our "Its Cowabunga to be Green" Challenge!
P & C
TERM 3 WEDNESDAY LUNCH – SAUSAGE SIZZLE AND A JUICE BOX - $5
*VEGETERIAN OPTION NOW AVAILABLE*
Orders MUST be given to your teacher at the start of class
Correct money MUST be included with your order, NO CHANGE GIVEN
Please ensure the following is on your order:
NAME AND ROOM No.
SAUCE PREFERENCE (Tomato, BBQ, Mustard)
AND JUICE PREFERENCE (Apple, Orange, Tropical or Apple and Blackcurrant)
Online Canteen www.QuickCliq.com.au
Orders must be placed online no cash orders.
YOUR CHILD'S CURRENT 2023 ROOM NUMBER MUST BE UPDATED OR THEY WILL NOT RECEIVE THEIR LUNCH!